Evangelist – March 2011 to March 2013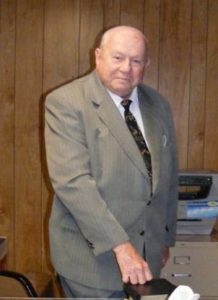 Evangelist – March 2011 to March 2013
Bro. Del Elkins – assumed the pulpit duties as of March 20, 2011.
Biography
Born

– April 3, 1935 in Detroit, Michigan – East Side General Hospital.  Lived in Detroit for close to 20 years.
Education – Southeastern High School, SE Detroit.  Graduated in 1953. Higher Education:  David Lipscomb College – 1953-1958.  Majored in Speech and Bible.
Early training – while at DLC – preached and taught in middle TN congregations–Centerville, Rockcliff, Nunnelly,  Lowe's Bend.
Armed Forces – US Army – 1959-1961 – served and preached in Oklahoma and Texas.
Married:  Barbara Ann (Burgess) – in Detroit – September 7, 1957 at the Fairview Church of Christ in SE Detroit.
Children:  4 – Linda – Born in OK in March 1960; Deborah, Born in Detroit, MI in May 1962; Dan Born in Washington, DC March of 1968, Dale (now deceased) Born in Washington, DC in August of 1971
After service – Ministry began.  Rochester, Michigan in 1961; followed by several years in Bay City, Michigan followed by 12 years in Washington, DC with the most fruitful effort with the Oxon Hill congregation in Maryland where there were 2,100 baptism years of service.
We now find ourselves – at this time –  having been married going on 54 years with children in Memphis, TN, Wisconsin and Tulsa, OK and Georgetown, SC. We have 9 grandchildren.     We have served in several capacities of ministry:  Starting and building congregations; Going to larger places and turning them into "sister" congregations. Serving somewhat "troubled" locations and letting the Lord – bring them to peace. We have served – from Michigan to SC, and from NY State to TX – somewhat equally divided – between South and North.
.